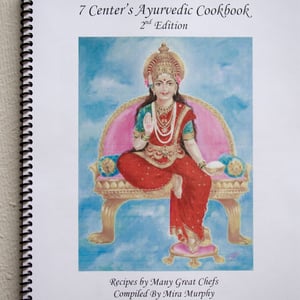 $

25.00
This cookbook, now in its second edition, is a compilation of recipes that chef Mira Murphy uses for the nourishing daily meals made and served at the Center. These wholesome recipes are created with careful intention to support our yoga students moving through yoga practices with strict schedule and lifestyle guidelines. Some of the food restrictions may not apply to day-to-day householder life and may easily be adjusted. Most recipes are made without wheat and dairy since many people today have allergies or sensitivities. Prayers and a brief description of the Ayurveda tridosha theory are included.
Enjoy!
Sales Tax Included.
Shipping is by UPS Ground in the U.S. only.
Contact us for special orders, non-U.S. orders, and volume discounts.